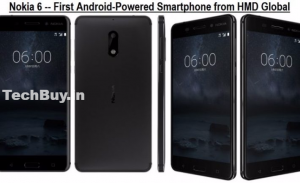 Nokia 6
The best way to judge success of a Smartphone is the number of pre-order it gets within in few hours of its launch. The Brand new Android smartphone of Nokia has the hit the market with storm.
According to the company the price of the Nokia 6 smart phone will be 1,699 CNY (roughly Rs 17,000) was put on pre-sale registrations on JD.com, a Chinese e-commerce company headquartered in Beijing. The registration has reached up to 2.5 Lakhs within the few hours of Pre-Booking. That amount of Pre-Booking should mean something. People are booking the phone even without any concrete reviews regarding the phone and only thing is that people are trusting the brand Nokia and there brand values. The Nokia branding is working for HMD Global (Foxconn).
If we are trying to compare the Pre-Booking of Nokia 6 with IPhone would be an ambitious task and moreover IPhone 7 has broke all records this time for the number of Pre-Booking in China Alone.
It would be too ambitious to compare the pre-order numbers of Nokia 6 with an iPhone's and in fact the iPhone 7 broke all records this time with the first day number running in millions in China alone.
But according to analysts 2.5 lakhs of pre-orders is not a big deal for a company like Nokia, Since they are competing with the Chinese SmartPhone Giants. Di Jin, research manager of IDC China, told South China Morning Post that 'the number is not impressive even compared with China's home grown brands, which means Nokia 6 does not pass the bar to enter the mainstream market', while Xiang Ligang, an independent analyst, says Nokia needs something novel to 'come back and stand out'
Though it would be too early to say that, a low number might point towards another thing — that Nokia 6 is all about nostalgia. And people rather care buying more specs, nicer design and something different with their money. Here are some Features of the new Nokia 6 SmartPhone:
Processor: It carries Qualcomm Snapdragon 430 chipset that has a 1.4GHz Octa core processor and Adreno 505 GPU.
RAM: The phone comes with 4GB RAM.
Internal storage: 64GB of internal storage, expandable up to 128GB using a microSD card.
Screen: 5.5-inch 1080p display, topped with a curved 2.5D Gorilla glass.
Rear camera: 16-megapixel sensor with an f/2.0 aperture lens, Phase Detection Autofocus and dual LED flash.
Front camera: It comes with an 8-megapixel camera in the front.
Software: The phone runs Android 7.0 Nougat out of the box. The interface is close to stock Android.
Battery: Nokia 6 has a non-removable 3,000mAh battery.
While Comparing Nokia With Others, Xiaomi sells its Redmi 3s Prime with same chipset at less than half the price in China, while With the Similar Price as Nokia 6 comes the Mi 5 (17,999 CNY) which has even more specs, like Snapdragon 820 chipset.To Highlight the deal, they have put dual amplifiers on board with Dolby ATMOS. We will wait and see, it could be just the cries of the start of a bigger battle. It will go on sale on January 19 and till then is open for pre-order registrations.